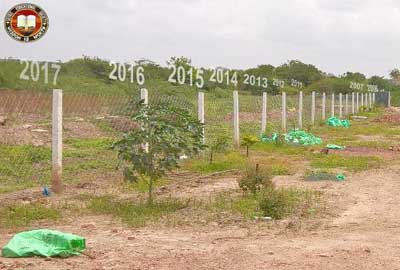 Sevas Educational Society is started in the year 2006 with an aim to bring people, who own land in a village but settled in cities or small towns. These people can start advanced biotech industries in villages with the help of Sevas Educational Society by utilising the land and thereby generating employment. The venue, which was selected to bring such people was internet, and Sevas has launched a website in the year 2006. Sevas has also done advanced search engine optimisation, in such a way that anyone in India types in google or any search engine, "Spirulina or Biofertilizers or Bioinsecticides", the first website will be Sevas Website. Over the years many people showed interest in starting industries. About 800 people showed interest in starting enterprises till 2015.
In the year 2007, Sevas Educational Society collaborated with OFERR organisation Chennai for Spirulina Production. Two thousand Sri Lankan refugee families living in Tamil Nadu and few Tamil families were given Spirulina as a Nutrition Supplement by OfERR from 2003. The strain is exceptionally suitable to Indian atmosphere.
In 2007, we identified two problems regarding promoting advanced biotech products in India. The first significant problem is quality and the second crucial issue is sales platform.
SEVAS has started Journal of Biochemical Technology in the year 2008. The journal aim is to bring experts, who are working in Biotechnology or Biology field, working in India and who have similar standards as Scientists in abroad (As Authors) and Editorial Board Members are good scientists working in overseas and are ready to help Indians, who wish to reach international standards. The journal also consists of Authors Advisory Board to train authors for publishing in International Journals without any charge. The advertisement was carefully done to bring such people, who are interested in publishing. In the year 2014, Sevas has registered Biochemical Technology Society, and all authors of Journal of Biochemical Technology issued free life membership of Biochemical Technology Society. This Biochemical Technology Society, in future, is believed to help Sevas Industries throughout India regarding Technical Expertise. Many authors are angry about rejecting the second paper submitted to Journal of Biochemical Technology as the ultimate aim of this journal is to bring people but not publish articles or publish issues or promote journal or index journal. Most of the workload of the journal is concentrated mainly to bring experts into journal.
The first step is to bring experts, train them by providing a proper platform and the second level is to promote them to do agricultural or rural research. Sevas supported this initiative by starting Sevas Centre for Sustainable Rural Technologies in the year 2015. For the promotion of Rural Technologies including Spirulina, Sevas has identified four organisations throughout India.
In 2011, some news reports, related to severe malnutrition in India were reported by few journalists in Karnataka. They showed pictures of children who are severely malnourished. Initially, based on the news reports, it is found that the malnutrition is a result of lack of food, but after visiting personally to those villages, we have understood that the malnourished children died due to lack of proper treatment by Expert Nutrition Support Clinicians. Villagers have told us that the entire village has pooled money (INR 5000/-) and visited Raichur City in Karnataka for treatment of the Mr Nagaraj (Malnourished Child), but he died due to severe acute malnutrition.
We have understood that the support and expertise from Expert Doctors are required so that in future such kind of incidents will not occur and Spirulina will help in fighting Severe Acute Malnutrition. The spirulina or any new food industries in India should have a solid experts backup. From 2012 to till date, The Indian Association for Parenteral and Enteral Nutrition and The Society for Clinical Nutrition and Metabolism were started to promote lifelong learning in dietitians and to bring doctors who are interested in critical care nutrition. After struggling for five years, we could able to find six expert doctors who can treat such kind of extremely critically ill patients throughout India and 400 Nutrition Support Clinicians who are interested in participating in Lifelong Learning and wish to become experts. Currently we have experts @ 200 Kilometers throughout India, Nepal and Bangladesh. IAPEN is aiming to promote 2 Lakh Nutrition Support Clinicians throughout India by 2022.
The SEVAS has to collect technology from OfERR or CFTRI or other organisations, but SEVAS do not have any technology on its own until 2015. Most of the information and research, especially "Know How" was hidden. For real-time experience, SEVAS has to start its industries and stabilise them and develop advanced technologies on par with International Standards. In the year 2016, Sevas could able to convince two entrepreneurs for starting Spirulina Industries and develop the technology. These industries were completed in November 2017.
Now, SEVAS is reaching many entrepreneurs for starting biotechnology industries throughout India. As, we are confident that, the extensive work which was taken up over past decade, will help in the stabilisation of Advanced Biotechnology Industries in India.